Buttermilk Scones.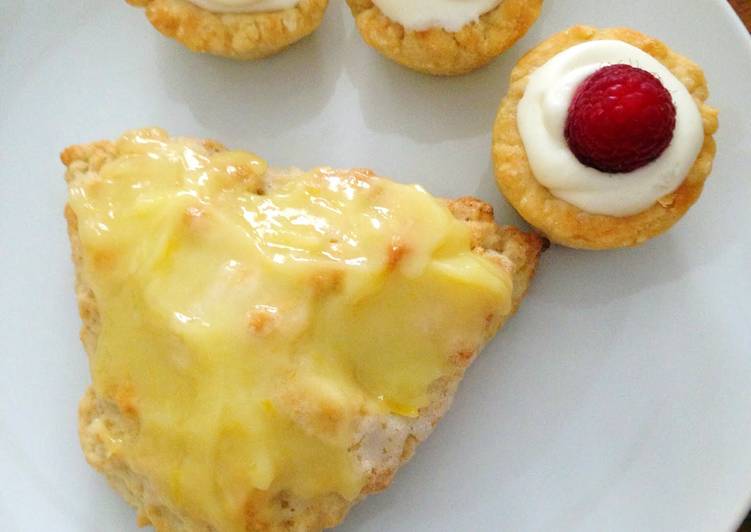 You can cook Buttermilk Scones using 12 ingredients and 13 steps. Here is how you cook it.
Ingredients of Buttermilk Scones
Prepare of Dough.
Prepare 3 cup of All-purpose flour.
Prepare 1/3 cup of Sugar.
It's 2 1/2 tsp of Baking powder.
Prepare 1/2 tsp of Baking soda.
It's 3/4 tsp of Salt.
Prepare 6 oz of Butter, unsalted, cold, cut into small pieces.
You need 1 cup of Buttermilk.
It's 1 tbsp of Lemon zest.
You need of Sugar Topping.
It's 2 oz of Butter, unsalted, melted for brushing.
Prepare 1/4 cup of Sugar, for dusting.
Buttermilk Scones step by step
Position the oven racks to divide the oven into thirds and preheat to 425?F..
In a medium bowl, combine the flour, sugar, baking powder, baking soda, and salt with a fork..
Add the cold butter pieces and, using your fingertips (or pastry blender or two knives), work the butter into the dry ingredients until the mixture resembles course cornmeal. ***Its okay if some larger pieces of butter remain; it makes the scones flakier.***.
Pour in the buttermilk, add the zest, and mix with a fork until the ingredients are just moistened - you'll have a soft dough with a rough look. (If the dough looks dry, add another tablespoon of buttermilk.).
Gather the dough into a ball, pressing it gently so it holds together, turn it out onto a lightly floured work surface, and knead it very briefly (about a dozen turns)..
Cut the dough in half..
Roll one of the dough halves into a 1/2-inch thick circle about 7 inches across..
Brush the dough with half of the melted butter and sprinkle with 2 tablespoons of the sugar..
Cut the circle into 6 triangles and place on a baking sheet..
Repeat steps 7-9 with the other half of the dough..
Bake the scones for 10 to 12 minutes, until both the tops and bottoms are golden..
Transfer the scones to a rack to cool slightly. These are best served warm but are just fine at room temperature..
STORING: If you are not going to eat the scones the day they are made, wrap them airtight and freeze; they'll stay fresh for a month. To serve, defrost the scones at room temperature in their wrappers, then unwrap and reheat on a baking sheet for 5 minute in a 350?F oven..