Baked mussels in the half-shell. You can add less parsley, depending on your choice. Half-shell mussels are simply mussels that have been steamed open. Cooking fresh mussels is not at all difficult, requires no special equipment and takes only a few minutes.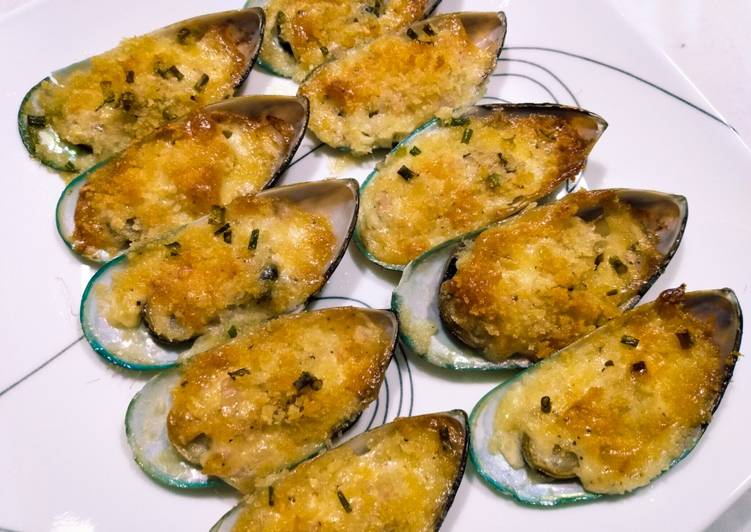 You can find them at the frozen section of your grocery store. Make sure to thaw them first in the refrigerator before cooking. If you prefer to use fresh ones, just cook them up first in a pot with. You can have Baked mussels in the half-shell using 7 ingredients and 3 steps. Here is how you achieve it.
Ingredients of Baked mussels in the half-shell
You need 1 box of (about 3 dozen) frozen greenshell mussels in a half-shell.
It's 1 cup of mayonnaise.
It's 3 cloves of garlic, minced.
You need 1 of large shallot, minced.
It's 1/2 cup of panko breadcrumbs.
It's 2 tbsp of fresh chive, chopped.
It's 2 tbsp of extra virgin olive oil.
Similar Royalty-free Images: Pork chops baked with onion, mushrooms and cheese. Grilled Shrimp and Prawn steak in white plate. Assorted shrimp and shiitake mushrooms, mussels, and sweet potato. Strain the broth into a glass measuring cup, leaving any grit behind.
Baked mussels in the half-shell step by step
Defrost and clean the mussels thoroughly. Lay them out onto two baking sheets. Preheat your oven to 425 F..
In a bowl, mix together the mayonnaise, garlic and shallot with several grinds of freshly cracked black pepper. Add a dollop of the mayo mixture to each mussel, and spread it to coat the meat evenly..
In a bowl, toss together the breadcrumbs, chive and olive oil until the crumbs are evenly coated. Sprinkle the crumbs over the mussels. Pop the mussels into the oven for 20 minutes until the tops are golden and toasty..
I buy New Zealand Green Lipped Mussels on the half shell frozen from my supermarket. They are quite reasonable, and cooked this way, I think, very delicious. Remove mussels and cooking liquid from dish. Let the mussels cool a bit, then break off the half shells, leaving the meat intact in the other half. Arrange the half shells on a baking tray (a pizza dish was useful), dot.