Frozen Peanut Butter Reeses Cheesecake.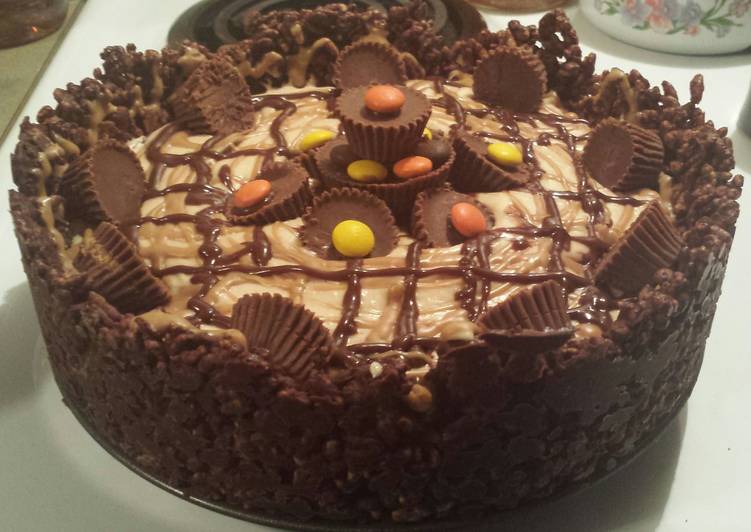 You can have Frozen Peanut Butter Reeses Cheesecake using 16 ingredients and 10 steps. Here is how you achieve it.
Ingredients of Frozen Peanut Butter Reeses Cheesecake
You need of Crust.
You need 6 tbsp of butter.
You need 1 1/2 cup of Semi Sweet Chocolate Chips.
Prepare 1 1/2 cup of Crispy Rice Cereal.
It's of Filling.
Prepare 8 oz of cream cheese, Softened.
It's 1 cup of sweetened condensed milk.
Prepare 3/4 cup of creamy peanut butter.
Prepare 1 tsp of vanilla extract.
You need 2 tbsp of lemon juice.
You need 1 cup of whipped topping, thawed.
It's of Topping.
It's 2 tbsp of Hot fudge sauce.
You need 2 tbsp of Peanut Butter.
It's 1 packages of Mini Reeses.
It's 1 of 9" Springform Pan.
Frozen Peanut Butter Reeses Cheesecake step by step
Melt Butter and Chocolate Chips in a microwavable bowl. Stir together til mixed..
Add Crispy Rice Cereal to Butter/Chocolate Chip mix. Mix until all the cereal is covered in chocolate mix..
Take mix and push against bottom and sides of the 9inch Springform Pan. Let crust sit in freezer while you prepare the filling..
In a large bowl beat cream cheese until fluffy..
Add the sweetened condensed milk and peanut butter and mix until thoroughly combined..
Add vanilla and lemon juice and mix until combined..
Gently fold in the whipped topping. Pour filling into the prepared crust..
Heat fudge and peanut butter in two small separate bowls for 20-30 seconds or until warm. Drizzle over filling..
Decorate cake with mini reeses..
Freeze for 4-6 hours. Let sit for 10 minutes before serving..