Shrimp, spinach and cream cheese ragoons. This Cream Cheese Rangoon Recipe is better than the Panda Express Cream Cheese Rangoons! Crisp on the outside and creamy on the inside, making such a yummy appetizer! Panda Express Cream Cheese Rangoon made with a creamy center and crispy exterior are the perfect appetizer for your next Chinese takeout meal.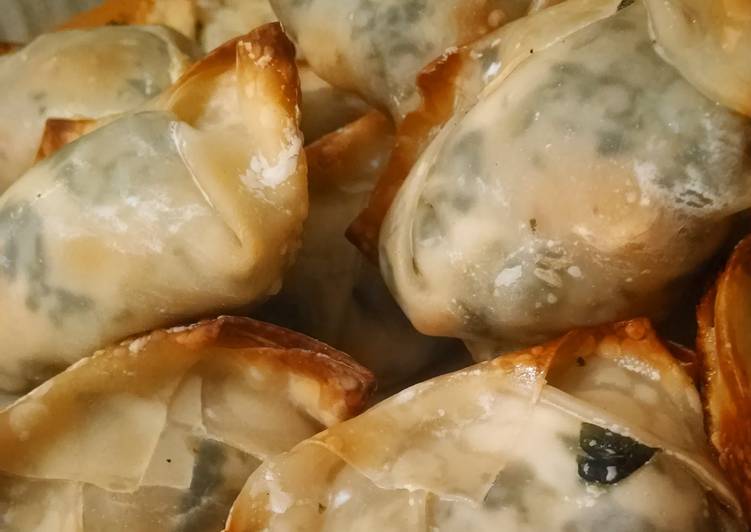 The hardest part of making cream cheese wontons really just lies in making the same shape. Add the shrimp to a food processor and pulse until they are coarsely chopped. Add in the green onion The next step is to make the rangoons. You can cook Shrimp, spinach and cream cheese ragoons using 5 ingredients and 3 steps. Here is how you achieve that.
Ingredients of Shrimp, spinach and cream cheese ragoons
Prepare 24 of wanton wrappers.
Prepare 1 packages of Frozen (or fresh) spinach.
Prepare 1 packages of mini shrimp or medium deveined and cleaned shrimp choped.
You need 16 oz of package of softened cream cheese.
Prepare 1 of lemon to taste (optional).
Take about one tablespoon of the mixture and add them to. paprika, roll, cream cheese, lemon pepper, garlic pepper. Place shrimp and garlic in food processor and pulse until they are chopped. Add soy sauce, Worcestershire sauce, green onions, ginger, black pepper, and cream cheese and pulse just until mixed. Take one level tablespoon of the.
Shrimp, spinach and cream cheese ragoons instructions
Preheat oven to 425°F Mix in bowl all ingredients until combined (except wontons).
Dip edges of individual wonton wrapper in warm water, add a tbsp of mixture and seal edges to create wonton and place in a cup of a spayed muffin tin. Repeat until all if the ingredients are used and bake until browned (12-17 minutes).
Top with a squirt of lemon if desired..
Baked Cream Cheese Rangoon are perfect for a dinner party passed appetizer, march madness snack, or as an appetizer to Place one teaspoon of cream cheese mixture into the center of one wonton wrapper. Dip your finger into the beaten egg and lightly coat the outer edges of the wonton wrapper. Place the crab meat, cream cheese, Worcestershire sauce, garlic powder and green onions in a bowl. Tried these tonight for dinner, making rangoons for the first time. We did the star shape and every one turn out perfect!