Vickys Spiced Pear Cake, GF DF EF SF NF. Great recipe for Vickys Sticky Ginger Cake (like the McVities Jamaican Ginger Cake). A fond childhood memory is going to my grannies house after school and getting a slice of ginger cake, thickly spread with butter to eat Carrot, Walnut & Red Lentil Hummus A savory, spiced, and protein-packed snack!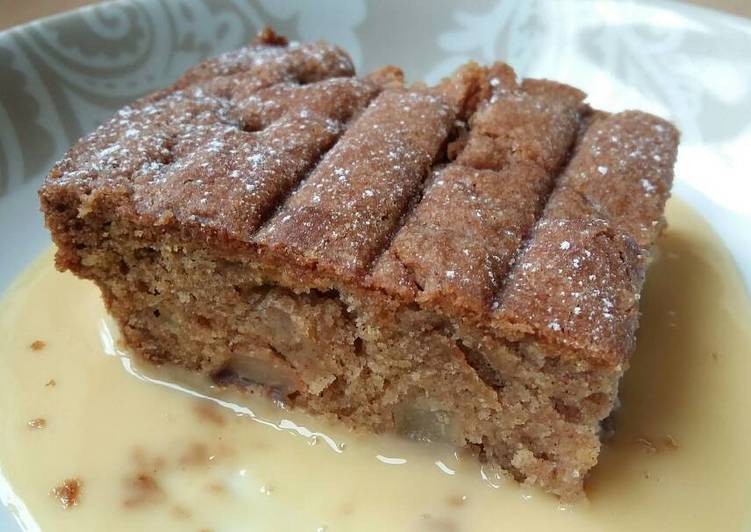 This cake is allergy friendly. enjoy. Music by. (Yes I spelled raisins wrong - I didn't proof read so that'll teach me huh! But it takes too long to re-upload a video so everyone just advert your eyes!) This Spiced Pear Cake is an easy pear cake recipe that's perfect for fall entertaining because it's delicate and moist with the most delicious balance of fall spices! You can have Vickys Spiced Pear Cake, GF DF EF SF NF using 13 ingredients and 9 steps. Here is how you cook that.
Ingredients of Vickys Spiced Pear Cake, GF DF EF SF NF
Prepare 360 g of gluten-free / plain flour.
You need 1/2 tsp of (scant) xanthan gum if using GF flour.
It's 2 tsp of baking powder.
It's 2 tsp of bicarb of soda / baking soda.
Prepare 2 tsp of ground cinnamon.
It's 1 tsp of ground ginger.
It's 1/4 tsp of ground nutmeg.
Prepare of (1 cup) olive oil.
It's of (1/2 cup) l ight coconut milk.
You need of (1/2 cup) white sugar.
Prepare of (1/2 cup) soft brown sugar.
Prepare 1 tsp of vanilla extract.
Prepare 400 g of or 2 large pears, peeled, cored and small diced.
It makes a terrific brunch cake or you can serve it with some vanilla ice cream and caramel sauce for. A little slice of this cake… with those spiced pears flecked throughout… and just the right amount of browned butter icing drizzled on top… is a perfectly nice dessert for fall (and for the abundance of fresh pears available right now). So, if you happen to be in a position. EF SF - Vickys Slow-Cooker Mongolian-Style Beef, GF DF EF SF NF - Vickys Spinach & Mushroom Stuffed Chicken Rolls, GF DF EF SF NF - Vickys No-Bake Energy Bombs, GF DF EF SF NF - Vickys Five Spice Pork with S & S Apricot Sauce, GF DF EF SF NF - Vickys Coconut Crunch Cake.
Vickys Spiced Pear Cake, GF DF EF SF NF step by step
Preheat the oven to gas 4 / 180C / 350F and grease a 10" round springform cake tin.
Add a quarter of the diced pears to a small pan of simmering water or pear juice on the stove. Cook for a few minutes until softened then drain and puree / mash well. Set aside.
Mix the flour, xanthan gum if using, baking powder and soda, cinnamon and ginger together in a large bowl.
Whisk the sugars, oil, milk, vanilla and pear puree together until the sugar is dissolving well.
Make a well in the middle of the dry mix and pour in the liquid in, combining to form a smooth batter. GF flour may need a splash more milk added.
Fold in the chopped pears and spoon the batter into the cake tin.
Bake for 50 - 60 minutes until firm to the touch, golden and pulling in from the sides of the tin.
Let cool in the tin for 10 minutes then either cut into portions and serve warm with ice cream or custard....
Or turn out, let cool completely on a wire rack then dust in icing sugar and slice.
We added pureed pears and pumpkin pie spice to cake batter to create a moist and flavorful cake. Great recipe for Vickys Clementine Cous Cous Salad, GF DF EF SF NF. I like to use fruit in my salads as well as vegetables and I find the flavour of an orange goes really well with beetroot and red onion. Great recipe for Vickys Whipped Coconut & Pineapple Pops, GF DF EF SF NF. This fruity chutney with pears, sultanas, a hint of chilli, star anise, ginger and cumin is the perfect way to preserve a taste of autumn.