Vickys Chocolate Pâté, GF DF EF SF NF.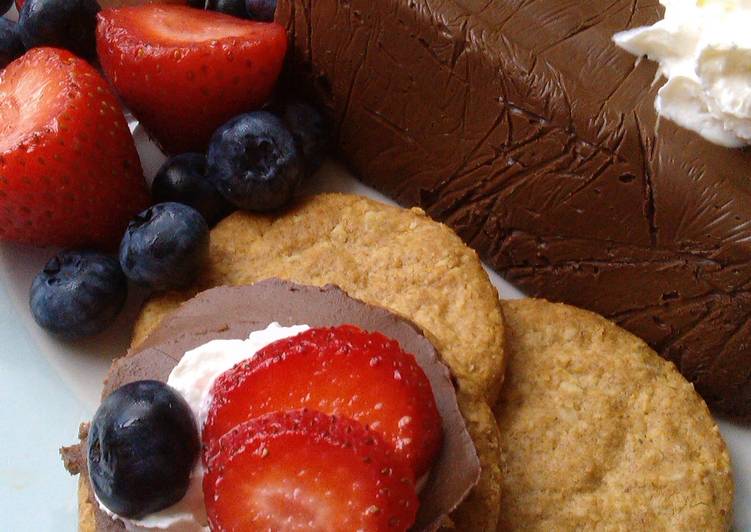 You can have Vickys Chocolate Pâté, GF DF EF SF NF using 5 ingredients and 8 steps. Here is how you cook that.
Ingredients of Vickys Chocolate Pâté, GF DF EF SF NF
Prepare 210 grams of good quality non-dairy 70% cocoa dark chocolate (most plain chocolate is dairy-free anyway).
You need 60 ml of fresh orange juice.
It's 1 of avocado, around 110g peeled & pitted.
You need 2 tbsp of maple syrup.
You need 1 tsp of vanilla extract.
Vickys Chocolate Pâté, GF DF EF SF NF instructions
Line a small loaf tin or mould 6"x 4" size with clingfilm leaving a large overhang and set aside.
Break the chocolate up into a glass bowl and set over a pan of simmering water.  Melt together with the orange juice and maple syrup, stirring until smooth.
Add the chocolate mixture, vanilla and avocado to a blender and puree until perfectly smooth.
Pour the mixture into the tin and smooth over the top with the back of a spoon or spatula.
Refrigerate for an hour or so until the top is just firm, then cover the top with the extra overhang clingfilm and refrigerate overnight.
Unmould by peeling the clingfilm off the top and turning the loaf tin upsides down onto a plate. Remove the tin and the rest of the clingfilm..
Slice with a warm knife, wiping the blade between slices.
A little goes a long way as this is quite rich, one tin will serve 12 slices and even more people. Serve with whipped cream, berries and cookies or wafers to spread the pâté on if desired https://cookpad.com/us/recipes/334148-vickys-vanilla-butter-cookie-pops-gluten-dairy-egg-soy-free-christmas-stocking-idea https://cookpad.com/us/recipes/338524-vickys-whipped-coconut-cream-gluten-dairy-egg-soy-free.