Fruited Oat Scones.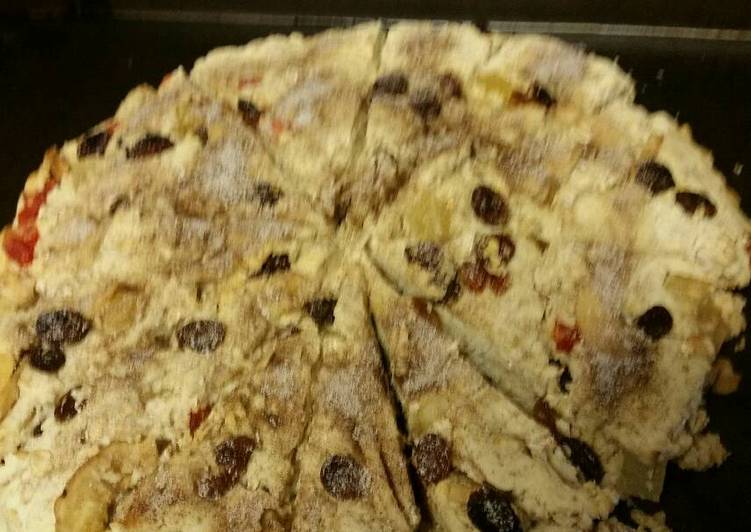 You can cook Fruited Oat Scones using 12 ingredients and 10 steps. Here is how you achieve it.
Ingredients of Fruited Oat Scones
Prepare 1 1/2 cups of flour (gluten-free or regular).
Prepare 1 1/4 cups of oats.
Prepare 1/4 cup of sugar or sugar substitute.
It's 1 tbsp of baking powder.
You need 1/4 tsp of salt.
You need 1/2 tsp of xanthum gum, if using gluten-free flour.
Prepare 1/3 cup of margarine.
Prepare 6 oz. (1 1/3 cup) of diced dried mixed fruit.
It's 1/2 cup of soy milk or milk of your choice.
Prepare 1 of egg, lightly beaten (or equivalent of egg substitute).
Prepare 1 tsp of sugar or sugar substitute.
It's 1/8 tsp of cinnamon.
Fruited Oat Scones step by step
Heat oven to 375 degrees..
Combine flour, oats, sugar, baking powder, salt, & xanthum gum..
Cut in margarine until mixture resembles course crumbs. Stir in fruit..
Add milk & egg. Mix just until moistened..
Shape dough to form a ball..
On lightly greased cookie sheet, pat out dough to form 8 inch circle..
With sharp knife, score round into 12 wedges..
Sprinkle with combined sugar & cinnamon..
Bake 20-25 minutes or until golden brown..
Break apart & serve warm..