Vickys Cinnamon Pear Compote, GF DF EF SF NF. Throw everything but the ice cubes in the blender and blitz. Chill in the fridge until ready to serve. See more ideas about Recipes, Food, Foods with gluten.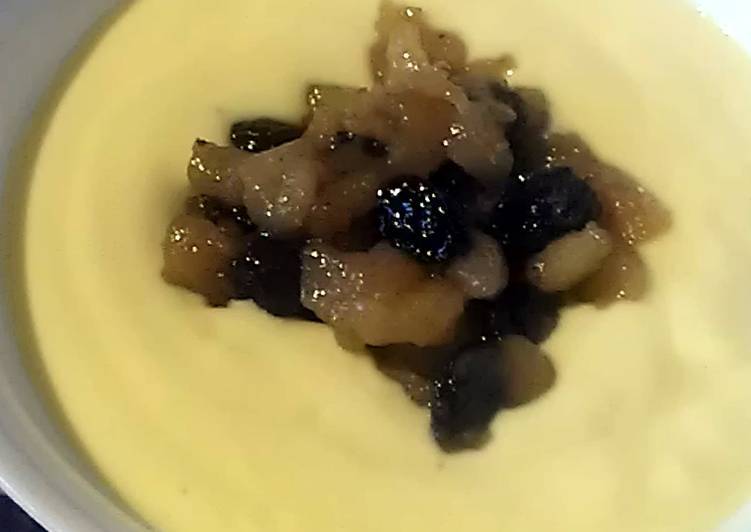 Pumpkin Spice Buttermilk Cake with Cinnamon Cream Cheese Frosting Top View on Preserved Pear Compote with Star Anise and Cinnamon Pear juice with cinnamon in a glass Pear compote Pouring syrup in a glass jar with sliced pear, cinnamon and cloves. Use them to help choose recipes that are best suited for you! You can have Vickys Cinnamon Pear Compote, GF DF EF SF NF using 8 ingredients and 4 steps. Here is how you cook that.
Ingredients of Vickys Cinnamon Pear Compote, GF DF EF SF NF
Prepare 2 of ripe pears, peeled, cored & chopped.
You need 40 grams of raisins.
Prepare 100 ml of apple juice.
Prepare 2 tsp of butter or sunflower spread.
You need 1/4 tsp of ground cinnamon.
It's 1 pinch of ground nutmeg.
You need 1 tbsp of apple cider vinegar.
It's 1 pinch of salt & pepper.
There is also an egg free diet (EF) and a nut free diet (NF) that concerns individuals who are allergic to these specific foods. It is best to run some. Sliced baked pumpkin sprinkled with cinnamon and sugar. Same Series: Pear Compote on Wooden Table with Star Anise & Cloves.
Vickys Cinnamon Pear Compote, GF DF EF SF NF step by step
Put the pears, raisins, juice, butter, cinnamon & nutmeg into a small pan.
Cover and heat on medium-low for 10 minutes, stirring occasionally.
Add the vinegar and a pinch of salt and pepper then turn up the heat to medium and continue to cook until the pears are falling apart and the sauce is thickened, just a few minutes.
Take off the heat and let cool another 5 minutes then serve either with a main like roast pork or serve cooled over ice cream or yogurt.
Recipe: Appetizing Vickys Cheeseburger Meatloaf, GF DF EF SF NF. Easiest Way to Prepare Delicious Vickys Mini Meatloaf Meatballs, GF DF EF SF NF. Recipe: Perfect low calorie apple cinnamon oatmeal breakfast muffin. In a medium-size saucepan, combine the brown sugar, cornstarch and cinnamon or allspice. Stir in the juice or fruit nectar and mix well.