Apricot Cream Scones.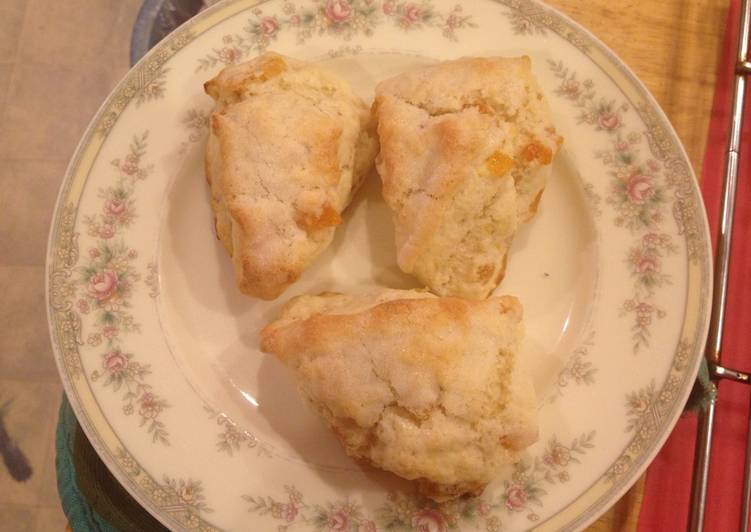 You can cook Apricot Cream Scones using 8 ingredients and 10 steps. Here is how you achieve it.
Ingredients of Apricot Cream Scones
You need 2 cups of all-purpose flour.
Prepare 1 Tablespoon of baking powder.
Prepare 1/2 teaspoon of salt.
You need 1/4 cup of sugar.
Prepare 3/4 cup of chopped dried apricots.
It's 1 1/4 cups of heavy cream.
It's 3 Tablespoons of butter(melted).
Prepare 2 Tablespoons of sugar.
Apricot Cream Scones step by step
Chop dried apricots.
Preheat oven to 425•F.
Combine flour, baking powder, salt. And sugar in mixing bowl, stirring with a fork to mix well..
Add dried apricots and mix. Still using a fork stir in the cream and mix until dough hold together in a rough mass(dough will be sticky).
Lightly flour your board and transfer the dough to it. Knead the dough 8-9 times..
Pat dough into 10 inch circle(to make mini scones split dough in half and pat into two 5 inch circles).
For the glaze spread the melted butter over the top and side of the circle then sprinkle sugar on top..
Cut circle into 12 wedges(or 8 wedges each for mini scones).
Place on ungreased baking sheet or silpat, allowing about an inch between pieces..
Bake for about 15 minutes(10 minutes for mini's) or until golden brown..